11 laundry room makeover inspirations to see before 2022 ends
Your laundry room might no longer be your "most-hated" home space before this year ends.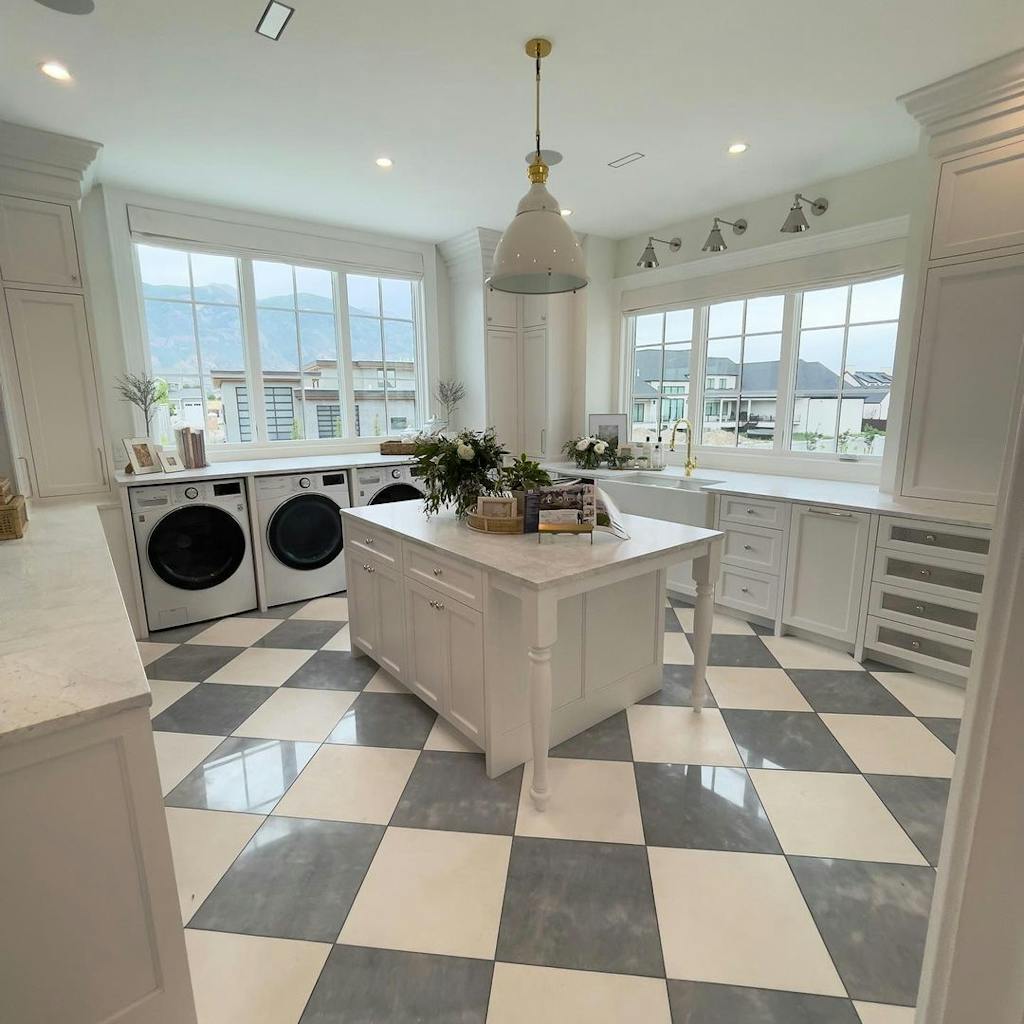 Photo: Toni Roberts, Design Dazzle/IG
Introduction
During construction, homeowners often focus on the details of their primary and secondary rooms, living room, kitchen, and comfort room--which is totally unquestionable because these are areas where they spend most of their time. However, notice that there are areas of the house that weren't mentioned. Those sections are the basement, attic, and laundry room. Some homeowners tend to neglect the designs of these areas, particularly the basement and attic, because they rarely visit those places, and that's totally understandable. The laundry room, on the other hand, is different. For sure, every household spends a couple of time in this place. It might not be longer than the time spent in the living room or bedroom, but a significant amount of time is still spent there. Therefore, to make that time worthwhile, the laundry room must be installed with exciting pieces of art or decorated with creativity aside from just installing washing machines and open cabinets. Laundry rooms must not only be functional, but they must also be sleek and interesting at the same time. 
We understand that it might be pretty arbitrary, so we prepared eleven laundry room makeover inspirations for different types of spaces. Have a look at the designs before this year ends and see which one fits your space and taste perfectly.
1. White and glossy
Chic and elegant. Any laundry area with this type of style brings out the kind of beauty will definitely be loved and appreciated. To get started with this type of style, go all out with white and glossy materials. 
Any high-gloss material makes the laundry room easy to clean and imbibe a bigger room feel that lightens up the laundry burden so easily.
Get inspired by Toni Robert's white laundry room below.
Her fresh laundry space is completed with white cabinetries, a kitchen island, a pendant lamp, and a glossy chequered flooring that produces a bright and inviting atmosphere.
Photo: Toni Roberts, Design Dazzle/IG
2. Small but cozy
When you have limited space for your laundry, the best way to keep it interesting is to make it a little cozy. Bring in earth-toned furnishings and lighting that cast a classy hotel-like vibe. When you do this, you will not mind staying in your small laundry space all day.
The two small laundry rooms above were outfitted with earth-toned cabinets and biophilic furnishings such as woven baskets and interior plants that contribute greatly to making the space feel soft and soothing. 
Photos: Adeline/IG(left); Pam/IG(right)
3. Lots of storage space
Doing the laundry is sometimes unthinkable because it's tiring and could really be boring, even when you have the latest type of home appliance installed, such as the washer-dryer-type washing machine. Don't add any more loads to this burden by keeping things in your laundry room organized and pleasing to the eye. You can achieve it by installing lots of storage space that helps you keep your laundry supplies arranged accordingly, making it easier for you to move around and be stress-free during your laundry days. When things flow smoothly, less time is spent doing the laundry, and more time is spent on other things that make you feel happy.
Earth-toned and white cabinets complement a cool stone floor in this laundry area by Audus St. Albans & Wokingham. 
Photo: Audus St Albans & Wokingham/IG
If you have extra space, keep your laundry area and pressing station altogether. It saves a lot of time and energy, especially when you've washed heavy blankets and curtains, because you can keep them directly to their rightful place without going to and fro around your home.
Another earth-toned inspired laundry room with lots of space for pressed curtains, blankets and other applicable textiles.  
Photo: Interior Design of your dreams/IG
4. Mixed Cabinetry
Add variation to your laundry room's look by including a mix of exposed and closed cabinetry where you can keep all your laundry essentials. Think about how you'll use the space so that they are not just visually interesting but functional and efficient as well.
This laundry room from  Audus St Albans & Wokingham features a mix of paseo verde closed cabinets and earth-toned open shelving and a deluxe sink.
Photo: Audus St Albans & Wokingham/IG
In this laundry room from Interior Design of your dreams, the variation of open and close shelvings made from gorgeous natural woods and hanging racks don't just make the space organized and efficient, it also creates a soft, calming atmosphere everyone would love.
Photo: Interior Design of your dreams/IG
5. Multifunctional
Transition your laundry room seamlessly into a mud room, music room, office room, or whatever else you want it to be when you're doing the laundry. Decorating it with proper furniture that fits your desired transition doesn't just make you creative–it also makes you productive, especially when you're getting a lot of non-laundry tasks done in between loads.
This laundry room's white and gray geometric wallcoverings and black hexagonal tile floorings matched perfectly with the white cabinetries and washing machine–making it a perfect multifunctional laundry room inspiration, especially for those who wanna go with a modern farmhouse design.  
With this large and comfortable laundry space, anyone can switch and accomplish any two non-related, non-food tasks smoothly. 
Photo: Hammond & Brandt Builders/IG
6. With an outdoor access 
Prevent the laundry room from being secluded and totally closed. If you have the option, nestle your laundry space by a window or door to make your laundry room feel more fresh and bright. You can also take advantage of the natural light that passes through in case you prefer to handwash particular clothes so you can easily spot small stains and brush them away from your favorite outfit pieces.
Designed by Atlanta Interior Designer, this laundry room imbues a strong statement of mixed modernism and country style. The open door and window bring tons of natural light in, revealing the beauty of the sage green cabinetry combination, dark copper faucet, and herringbone flooring. 
Photo: Atlanta Interior Designer (@houseliftdesign)/IG
7. Eclectic
Don't limit your self-expression to your living room and master bedroom decoration. Bring them anywhere, especially in places you'll find totally uninteresting, such as your laundry room.
Experiment with the wall color, wall prints, furnishings, and floorings. Aim it to be one of the best rooms at home where you can freely stay without staring at the clock and minding the real reason why you're there.
This eclectic mix of blue wall covering and blue-and-white patterned floor tile feels posh in this fun and unique laundry space from Jessica Margot Design Official. 
Photo: Jessica Margot Design Official/IG
8. Water-inspired theme
The colors of the sky and ocean are also a good way to keep your laundry room from being gloomy and uninteresting. The palette of teal, in particular, is one of the best options if you want to give it a go.
The laundry room above from Arquitetura & Design is completed with teal cabinets with a very smart arrangement.  Some of these cabinets are filled with laundry baskets specifically placed for each family member to help keep track of their own laundry. 
Photos: Arquitetura & Design /IG
9. Sleek and strong
Often, we want sleek and strong designs for office or bedroom spaces only, leaving the laundry rooms with a much simpler look. What if.. we go beyond the norm and incorporate creativity in those rooms as well? Doing so might help us get the same motivation we have whenever we stay at our home office or bedroom, even when we're there doing the laundry.   
In this laundry room, ElevenFour used sextant patterned floorings to craft a sleek and strong style that is totally compelling.
Photo: ElevenFour/IG
10. Classy and sophisticated
Here's another laundry room makeover inspiration you may want to see for yourself –an aesthetically pleasing laundry room that incorporates furnishings you usually find at glamorous stores and exclusive brands.
Created by HomewarDesign, this classic and sophisticated laundry room setup includes mirrored cabinets with woven baskets beneath, white-tiled wall coverings on one side, chequered black and white tiles for its floorings, and a classic floral arrangement. 
Photo: HomewarDesign/IG
11. Pet-friendly
One of the best ways to make your laundry day less tiresome is to allow yourself to be entertained by your pets. However, you need to keep in mind that it should be two-way, and your laundry space must be friendly and safe for them as well. If you're considering this laundry room makeover inspiration, you may want to include custom dog housing, built-in feeding bowls, and pet-inspired wall decors. Don't forget to make sure you'll keep all your laundry supplies inside cabinetries that are out of reach to keep your pet (and your laundry supplies) safe and secured. 😁
This laundry room from Natasha Sawkins of @redcliffhouse_renovation featured a shower  for her dog. 
Photo: The Times & Sunday Times/Pinterest
The owner of this laundry room keeps the design minimal but what makes it different and unique is the inclusion of the pet's litter box.   
After seeing the 11 laundry room makeover inspiration, have you seen the laundry room design that fits your preference best? Will you go for a space that has a lot of storage? One with mixed cabinetry? A room that's multifunctional or a white and glossy laundry room? Maybe you're considering the other laundry room inspirations–the one with outdoor access, the small but cozy type, the eclectic, the one which is inspired by water, the sleek and strong, the classy and sophisticated, or the pet-friendly laundry space? Whichever design you choose, ensure that it won't get mixed up with the functionalities of the other areas of your home. If you go with the one with outdoor access or the multifunctional laundry room, have your contractor assess the overall structure first for safety and security purposes. 
And lastly, as much as possible, get the service of home builders around Tampa Bay area who can help you realize the laundry room design you've always wanted with your safety, security, and utmost satisfaction in mind. 
This article was last updated on Dec 7, 2023