15 Tampa Bay Area Homes with Beautiful Outdoor Living Spaces
Indulge in summer bliss at Tampa Bay's homes with refreshing pools, shaded patios, and inviting lanais. Experience vacation-like living as you dive into sparkling waters, unwind under covered retreats, and embrace the allure of outdoor living spaces. Discover the epitome of tropical luxury in the heart of Tampa Bay's summer season.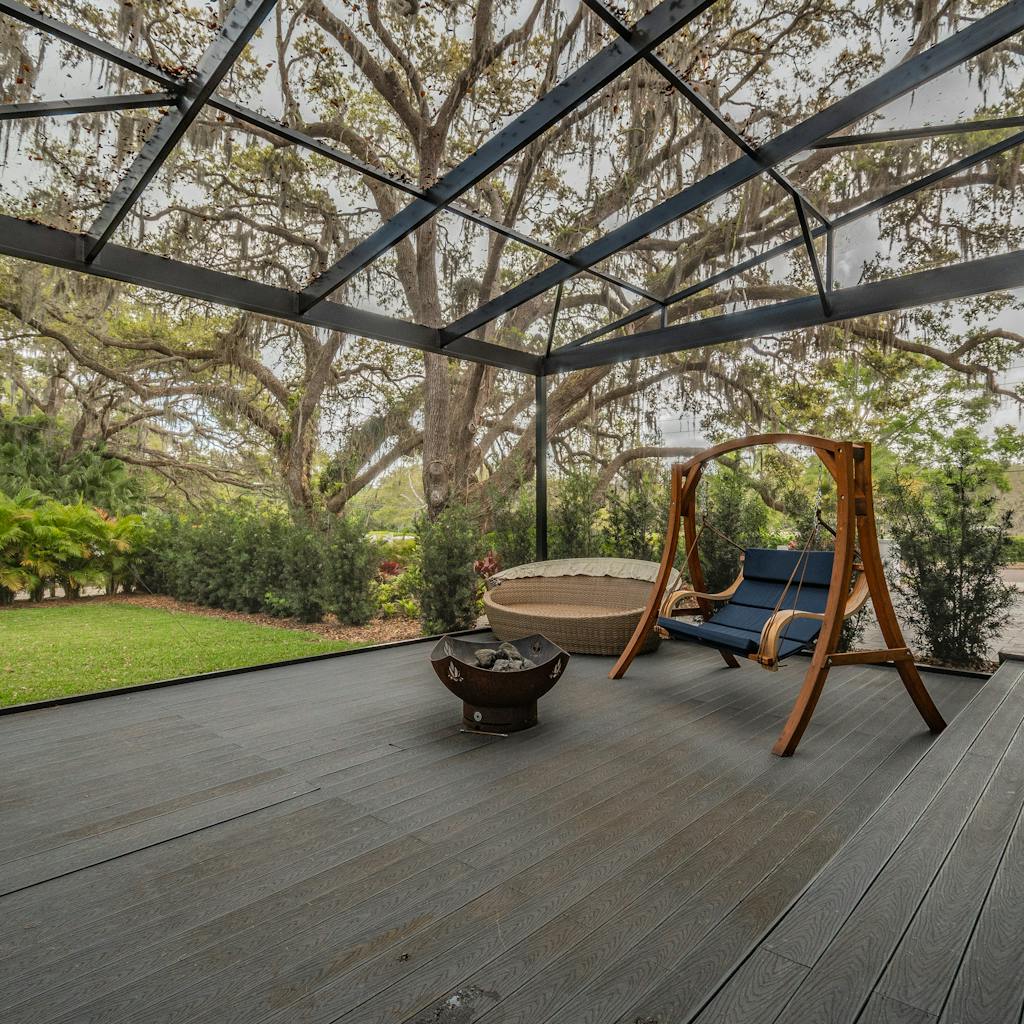 Introduction 
In Tampa Bay Area, the epitome of luxury living unfolds as an enchanting symphony between the indoors and the great outdoors. Beyond the mere boundaries of elegant interiors lies a realm where luxury and nature intertwine harmoniously. With many homes boasting desirable swimming pools, covered patios, and enchanting lanais, Tampa Bay unveils a captivating tapestry of outdoor living spaces that redefine the essence of luxurious living. In this blog, we invite you to immerse yourself in the allure of Tampa Bay's most coveted homes, where a refreshing oasis, serene retreats, and an ambiance of relaxation and serenity await at every turn. Join us as we embark on a journey through these exceptional residences that set the standard for unrivaled outdoor living experiences.
1. Serene Shores Estate
Location: St. Petersburg, Florida.
This waterfront luxury home offers a breathtaking swimming pool with a spacious covered patio overlooking the serene bay.
Source: SI REAL ESTATE TAMPA BAY/IG
2. Coastal Charm Haven
Location: Clearwater, Florida.
Embrace coastal living in this elegant home with a stunning pool beside a spacious lanai with an outdoor kitchen perfect for entertaining guests.
This luxury custom home by Parasol Properties also boasts an expansive patio that offers a tranquil setting for residents to unwind, spend quality time with their loved ones, and immerse themselves in the serene ambiance of nature.
3. Modern Paradise Retreat
Location: Clearwater, Florida.
This sleek and stylish outdoor oasis is completed with a swimming pool, a covered patio with tropical-inspired furnishings, and an outdoor kitchen and dining area, creating the ultimate modern retreat.
It also features an expansive screen porch surrounded by a grand lawn.
Source: Parasol Properties
4. Mediterranean Escape
Location: Odessa, Florida
Step into a Mediterranean-inspired haven with a beautiful pool surrounded by lush greenery, a spacious covered patio with ornate arches and comfortable seating, and a serene lanai adorned with elegant columns.
Source: Tampa_ Homestyles
5. Family-Friendly Haven
Location: Odessa, Florida
This home boasts a family-friendly pool with a water slide and splash area, a covered patio, and a play area.
Source: Tampa_ Homestyles
6. Tranquil Lakeside Residence
Location: Palm Harbor, Florida
A peaceful ambiance from this lakefront home features a tranquil pool overlooking the water and a covered patio with panoramic lake views.
Source: Tampa_ Homestyles
7. Lakeview Retreat
Location: Lutz, Florida.
This stunning home offers an open balcony that seamlessly integrates with nature, providing breathtaking views of the serene lake.
In addition to that, the property also boasts an entire basketball court and a pool! The homeowners of this magnificent property couldn't ask for anything more!
Source: Tampa_ Homestyles
8. Contemporary Outdoor Retreat
Location: Tampa, Florida
Experience a contemporary outdoor paradise with a minimalist modern pergola with comfortable loungers, a sleek fire pit, and a wall fountain.
Source: Tampa_ Homestyles
9. The Oasis Haven
Location: Belleaire, Florida
This expansive outdoor living space boasts a generously sized patio, providing the perfect blend of sunshine and shade. Indulge in the luxury of a spacious outdoor kitchen, ideal for entertaining friends and family.
Source: Parasol Properties
10. Timeless Opulence: The White Oasis
Location: South Tampa, Florida
This luxurious home boasts a pristine exterior that exudes timeless beauty and sophistication. Adorned with a summer umbrella, the outdoor living space invites you to indulge in the tranquility of a sparkling swimming pool. The vibrant red tiles add a striking contrast, creating a captivating visual feast for the eyes.
Source: Tampa_ Homestyles
11. Bougainvillea Paradise
Location: South Tampa, Florida.
This beautiful outdoor living space showcases a gorgeous swimming pool embraced by vibrant colors and delicate bougainvillea blooms.
Source: Tampa_ Homestyles
12. Rustic Retreat with Farmhouse Flair
Location: Chiefland, Florida
Nestled amidst nature, this inviting home offers an outdoor living space that effortlessly exudes the charm of a farm-like setting. The outdoor living space embraces the essence of rustic charm with weathered wooden accents, cozy seating areas, and delightful touches reminiscent of a quaint farmhouse. Whether savoring a cup of coffee on the deck or hosting a gathering with friends, you'll find yourself captivated by the idyllic setting.
Source: Tampa_ Homestyles
13. Serenity Oasis: Where Luxury Meets Tranquility 
Location: South Tampa, Florida
The opulent pool entices you to immerse yourself in its pristine waters. All set amidst a contemporary fireplace and a chic deck, exuding an air of sophistication and elegance.
Source: Tampa_ Homestyles
14. Elegant Haven: Where Water Meets Fire
Location: Tampa, Florida
This exquisitely designed home seamlessly blends the allure of a captivating swimming pool with the warmth of a cozy fireplace. Step into a realm of refined beauty as you admire the stunning architectural details and thoughtfully curated features. The swimming pool, adorned with shimmering tiles, invites you to immerse yourself in its tranquil waters. At the same time, the nearby fireplace radiates a comforting glow, creating a mesmerizing focal point for relaxation and conversation. Whether basking in the serenity of the poolside oasis or cozying up by the fireplace under a starlit sky, this home offers an unparalleled ambiance of sophistication and comfort.
15. Romantic Paradise: Where Love Blossoms
Location: South Tampa, Florida
Every corner of this magical retreat is designed to create a romantic ambiance, perfect for intimate moments and cherished memories. Set the stage for romance with the mesmerizing floor decor that captivates your gaze, creating an enchanting atmosphere. Cozy seating arrangements are nestled under a canopy, inviting you to immerse yourself in the beauty of love and romance. Whether savoring a candlelit dinner for two or cuddling up with your special someone under the starry sky, this intimate outdoor living space transforms into your private haven of romance.
Source: Tampa_ Homestyles
Final Thoughts
As you've explored this enticing list of homes with desirable outdoor living features in Tampa Bay, it's clear that these residences offer a glimpse into a world of unparalleled luxury and serenity. Each property showcases the artistry of outdoor living, inviting you to create cherished memories amidst breathtaking swimming pools, covered patios, and beautiful lanais. Whether you desire a tropical oasis, a contemporary retreat, or a Mediterranean-inspired haven, these homes ignite the imagination and leave you yearning for a custom-built paradise of your own. With a trusted custom home builder by your side, your vision can become a reality. Elevate your lifestyle and embark on a journey to design and own a truly exceptional home meticulously tailored to your desires. Transform your dreams into a tangible masterpiece that reflects your unique tastes and embraces the spirit of Tampa Bay.
This article was last updated on Sep 5, 2023