5 Front Entrance Ideas for Your Custom Home
Prettify the entryway towards your front door or the area after it with any of these five front entrance ideas with catchy titles you'll never forget!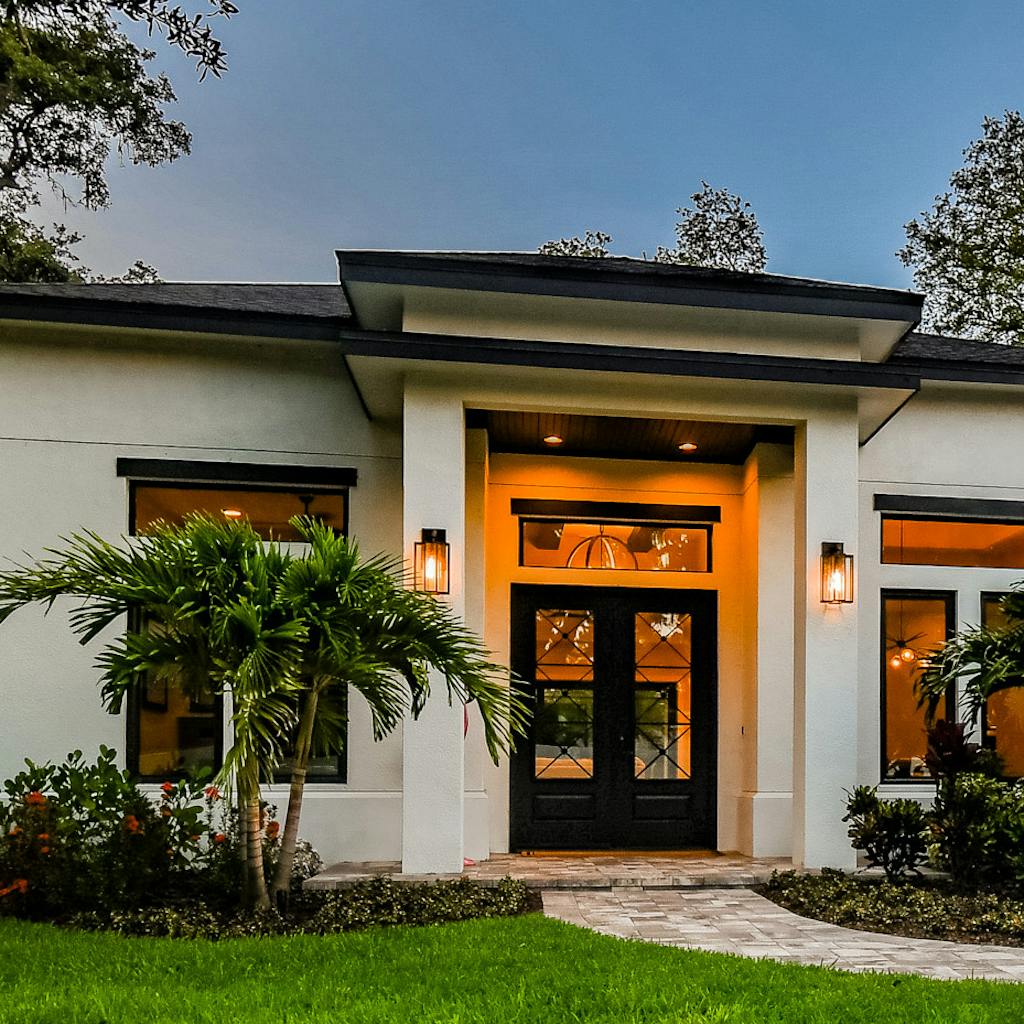 Photo: Parasol Properties
Grand front entrances have been a thing for most homes in 2021, and this year, designers believe that this home feature will still trend. Aside from setting the tone for the rest of a home's interior design, your front entrance can provide your visitor with an impression of your design preferences and a bit about yourself. Decide how you want to be perceived by including features in the front entrance that best describes YOU. Get ideas from any of the following 5 front entrance styles for your single family home in the Tampa Bay area. 
1. A walk to remember 
Location: Clearwater, Florida
Designed by Parasol Properties, this entryway from a single family home in the Tampa Bay area is a must-have front entrance, especially for those who have broad, idle yards. A lush and vibrant entryway gives an impressive experience to anyone walking in between it. Passing in a single family home with this type of front entrance will always be a walk to remember!
Aside from bermudagrass, the two sides of an empty and long pathway towards your single family home's front door can be decorated with creeping thyme seeds or other plants you prefer. 
Photo: Parasol Properties
2. Open sesame! 
Location: Pinellas County, Florida 
You're not Ali Baba, and you're certainly not trying to open a cave. But, when you got a luxury home with a grand front entrance that looks very classical, saying the magical word "open sesame!" might feel like the right words to tell so you can enter the home. Grand gatehouse or recessed entryways with classic and fortified pillars are another way to level up any single family home's front entrance. To doll up your front entrance, get inspiration from another Parasol property creation below.
This Spanish mission-style mansion from Florida features a smooth stucco finish, barrel roof tiles, arched entryways, windows, wrought iron works, and two sconces that are both dramatic and minimal at the same time.
Photo: Parasol Properties
3. I love ROCK and roll 
Location: Lutz, Florida 
Using rocks on walls–or more famously known as stone cladding installations are proven more durable and long-lasting than any walling materials. Aside from its protective effect, stone cladding makes wall surfaces distinct and aesthetically appealing. If you're drawn to rocks, keep them rolling on your walls and see how it builds up an impressive front entrance like the one below.
The combination of stone cladding, vintage lamp, tinted windows, and timber door with sidelite and transom seen in this home's front entrance makes a good vintage impression. Shop this single family home's front entrance at Tibbetts (Tampa Bay areas)  for the front door and PGTI for the windows. 
Photo: Parasol Properties
4. Old but gold 
Location: Sarasota, Florida 
Creating a Victorian-inspired foyer is also an excellent choice for enhancing your front entrance. Those who have single family homes in the Tampa Bay area can do this with the help of certified luxury home builders who can remodel your home to add more Victorian-style features such as cathedral ceilings and light brown colored tiles mixed with striking patterns, colors, and shapes. Get inspired by checking the details of this single family home's front entrance from Sarasota.
A walk in this expansive Victorian space will give you an "old but gold" feeling. The combination of a chaise lounge, an old-fashioned sideboard, lamp, cathedral ceiling, dramatic flooring, and wooden door with customized sidelite and transom imbues a Victorian ambiance that's unique and opulent. 
Photo: Certified Luxury Builders via Decoist
5. The Great Gatsby
Location: Tampa Bay, Florida 
When talking about "grand" front entrances, this option would probably be the most popular on our list. Where else do we often see luxurious grand entrances aside from hotels? Hotels, particularly their lobbies are one of the best sources of inspiration if you want to make your front entrance as grand as possible. Most hotel lobbies feature floor-to-ceiling windows, wrought-iron detailing, chandeliers, brass fixtures, and marble floors that make them appealing and exceptional. Witness how the Tampa Bay mansion's front entrance includes some of those features that made it look like an actual hotel. 
Richness in colors, bold geometrical patterns, and decadent detail work that brings in glamour, luxury, and order with symmetrical designs in exuberant shapes are the common features that you can see in this single family home. These are features of art-deco style that were mostly seen in the movie known for exhibiting great opulence, The Great Gatsby. If you like to display grandiosity, decor your front entrance with this style. 
Photo: CL Tampa Bay
This article was last updated on Sep 5, 2023