5 Gorgeous Kitchen Island designs
How would you like your kitchen to be defined?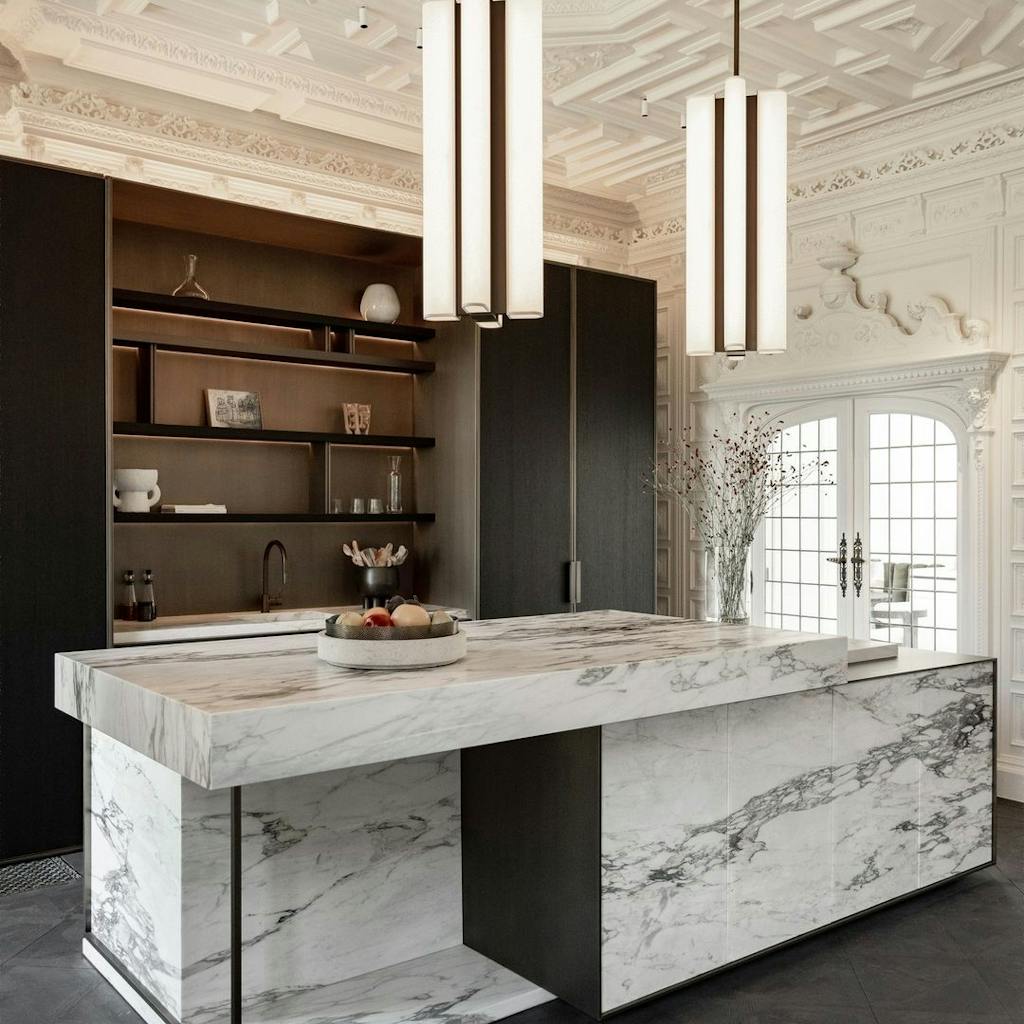 Photo: Patricia Goijens via Dieter Vander Velpen/IG
Kitchen islands can define one's kitchen. An oversized kitchen island could indicate a family's desire to gather everyone around a broad table while dishes are being prepared. A kitchen island installed with a cabinet, a sink, an oven, a refrigerator, and a large kitchen hood could indicate a busy kitchen. On the other hand, a normal-looking kitchen island could indicate that the most common place for that family's gathering is held somewhere else, or it could just demonstrate the family's simplicity. Whatever definition they give to one's kitchen, there's one thing we would like you to keep in mind about kitchen islands, and that is they need to be functional and aesthetically pleasing at the same time. To help you achieve this, here are 10 different kitchen islands that look classy and stylish.
1. Two-Tiered Kitchen Island
Everything in this Dieter Vander Velpen creation is adorable, but the bespoke, two-tiered countertop is my favorite. Being juxtaposed against the kitchen's oak and bronze open cabinetry made it stand out even more, metaphorically telling its designer they did a great job placing it there. 
Photo: Patricia Goijens via Dieter Vander Velpen/IG
2. Circular Kitchen Island
The creamy, custom kitchen above was created by Avenue Studio Architects and designed by Lowi Interiors, evoking a calming mood that homeowners will look forward to having. It was even intensified by the beautiful curves displayed by the space's countertop. Definitely, a must-have design if you're looking to renovate your kitchen next year with cost mitigation in mind.
Photo: Tasker Joinery/IG
3. Storage Island by Ribeiro Stones
Style, form, and function have been the designer's priority in creating the two-toned, elegant kitchen island above. Guests will definitely enjoy the comfortable seating with the stylish brass stools because of the generous space created between the pillars and the recessed storage space. 
Photo: Orlando Home Photography via D&R Kitchen and Bath/IG
4. Piano-shaped Countertop with Sink.
How far can you go for your passion? Well, the owner of the kitchen space above went far beyond expectation when they incorporated their favorite instrument into the shape of their piano-inspired kitchen island. Built by Classic Granite, this kitchen piece is not unique in form but even with the design of its worktop and sink that perfectly matched the navy blue cabinet and the overall cozy feel of the space. 
Photo: Copacabana White Granite via Classic Granite/IG
5.  Elegant Countertop
The look of this kitchen is showstopping –the flooring, the lighting, the walls, and the overall feel it gives the spectator. From this view, the countertop has proven that it deserves to be the home's focal point as it helped bring out the space's incomparable elegance. Even from afar, the delicate details of its white-fluted cladding are noticeable. A Mldodak interior design creation that could captivate every heart that beats for warmth, subtlety, and glamour. 
Photo: Mlodak Interior Design/IG
This article was last updated on Dec 11, 2023