Add extra life to your walls and floorings by using honeycomb tiles for your Tampa Bay property this year.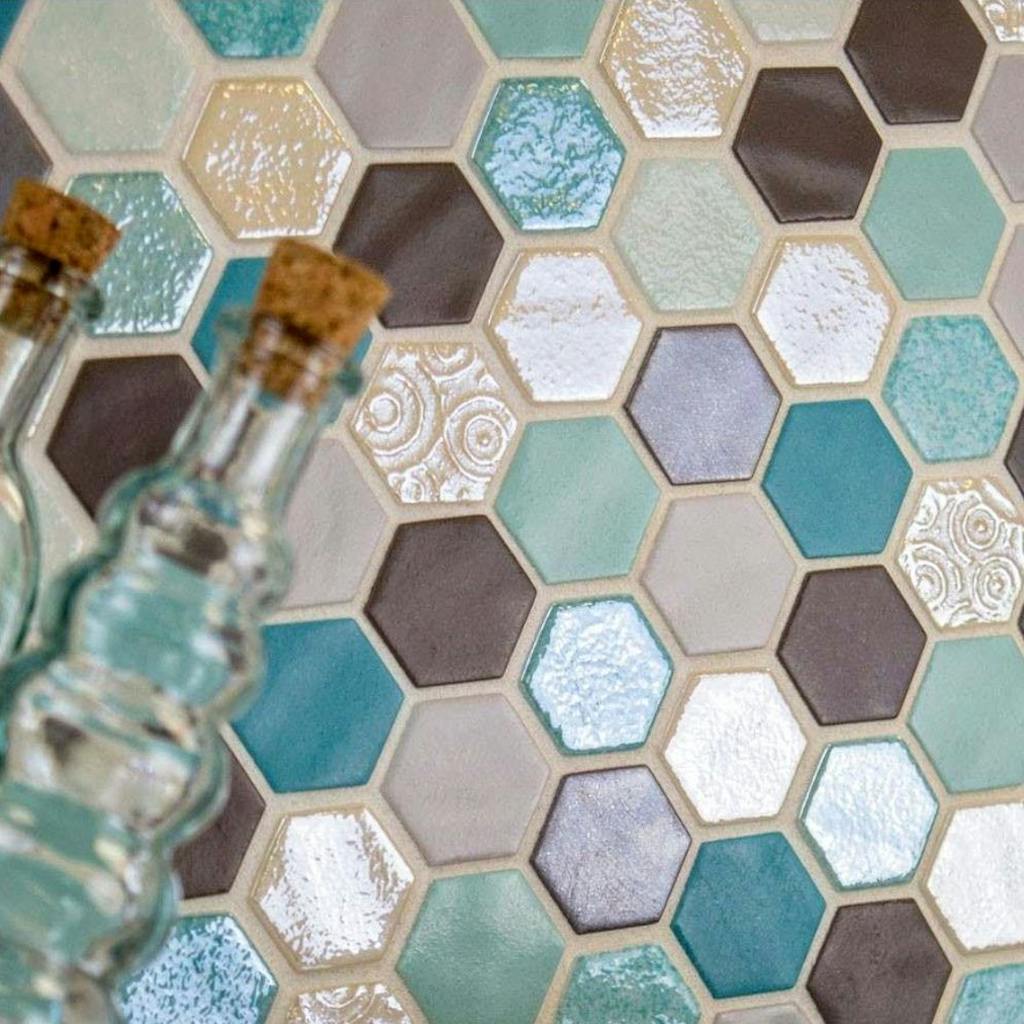 Photo by: Luxury Tiles U.K Ltd./IG
Do you know what the Giant Causeway in UK and Saturn's north pole have in common?
Their hexagonal shape.
The most prominent shape that almost any person can notice while looking at them aside from irregularly-shaped polygons.
Isn't it amazing? 
Hexagons are also present in a turtle's shell, the eyes of a dragonfly, snowflakes, and beehives. And this year, your home can also feature hexagons too! The best way you can include them is by incorporating them on your floorings and walls. Let's have a look at some stunning house interiors that utilize hexagon tiles. 
Do you want to imitate some of the designs, and you're wondering where to get quality supplies around the Tampa Bay area? 
Here are some suppliers we recommend: 
Floor & Decor (Tampa) 
This tile store in Tampa sells hexagonal tiles in different sizes and colors depending on your preferences. See some of these tiles below:
Black Matte 2 in. Hexagon Porcelain Mosaic
From the name of the tile itself, you can already know what this hexagonal tile will feel and look like. If you want a strong statement wall for your modern home interior, using Black Matte 2 as furnishing to your accent wall is worth a try!  Chip size is 2 inches, and the sheet size is 11 x 13. See Floor & Decor's example below to visualize!
Cesari III Matte Hexagon Porcelain Mosaic by San Giorgo
If you want something else for your accent wall, why not try this tile from the same store. Cesari III is white, and as the name implies, it is matte-finished. The looks of this tile best fit any place in your home. Whether you want them on the walls of your comfort room,  living room, or even on your kitchen sink backsplash. And in case you want them on your flooring, all we can say is... 
Why not! 
According to Floor & Decor, this tile can withstand heavy foot traffic, making it a friendly tile flooring for any home. See how Cesari III fitted beautifully as an accent wall in a foyer. 
Shaw Floors (Clearwater)
If you haven't felt some connection with the previous tiles, maybe you can check out some more hexagonal tiles from Shaw Flooring. This store in Clearwater offers a wide variety of hexagonal tiles to choose from. Here are some from their product list that are unavailable from other stores
Molten Hexagon Glass
This tile came from Shaw flooring's Ceramic Solutions collection. It is available in eight colors–Santorini, Hydra, Pewter, Nickel, Obsidian, Penny, Bronze, and Platinum. Molten Hexagon glass looks pretty amazing on Shabby chic-inspired homes. See how pewter(color), could look like if installed on your sink backsplash.
Another variation of this tile looks equally excellent too! You may check this link to see them. 
RETRO APIARY 
Do you want to go hexagon all the way? You may want to explore Retro Apiary Indigo. This tile collection is very sleek and comfortable to the eyes. See how it could look like on comfort room walls.
San Francisco Hexagon - Presidio
If you want something elegant for your modern great room or bathroom wall and flooring, try this tile. The one below is Presidio, but there are other available tile colors: Lombard, Pacific, and Nob Hill.
If you want to discover more hexagonal tiles from Shaw floors, click here. 
The Tile Shop (Tampa)
If you're still looking for more tiles with different variations, check out this list from The Tile Shop. We've picked two of their most unique product offerings that you will find fantastic, especially if you love classic vintage looks for your walls and floorings. Let's have a look at the first one. 
Hex Matte White with Black Flower Porcelain Wall and Floor Tile
This is one of the unique collections you can find among the stores selling hexagonal tiles. The design is adorable. It best fits any single-family homeowners who want to go retro and classic simultaneously.
Hex Encaustic Wall and Floor Tile - 8 x 8 in.
If you want to go hexagon but want to be extra creative, this might be the perfect set of tiles for you. Hex Encaustic Wall and Floor Tile are available in three different designs: Rogue, Gold Widow, and Blu Widow.
By simply applying some imagination, these sets of tiles can definitely create a playful-looking flooring or wall that adds extra energy to your single family home. 
Tile & Stone of Italy (Tampa)
Have you found the tile design that you are looking for? So far, we have presented tiles that fit a modern-looking home, Shabby Chic-inspired, retro and now, allow us to share with you tiles that you can use in case you want to be classic!
Heritage
Other stores with Hexagonal tiles 
Here are other tile stores you can personally visit to see more hexagonal tile options. 
Baystone Tile (Tampa)
Bay Tile Kitchen & Bath (Clearwater)
Bob's Carpet & Flooring (Tampa)
Floor Coverings International (Tarpon Springs)
Hanover Carpet One Floor & Home (Tampa Bay, Tarpon Springs)
Checkpoint Flooring Solutions (Clearwater)
E & W Carpets (Lutz)
Floor Depot (Dunedin)
Floor Center of Tampa Bay (Tampa)
Flooring Master (Lutz)
Gulf Tile (Tampa)
Stone Mart (Tampa)
Stoneline Group (Tampa)
Tile Outlets of America (Tampa)
Tile & Stone of Italy (Tampa)
Twin Brothers (Lutz)
Conclusion
We hope you've enjoyed our list and have considered installing hexagonal tiles on your home. What are your top picks? Are they the ones from Floor & Decor? Shaw Floors? The Tile Shop? Tile and Stone Italy? or one from the list of other tile stores?   Let us know by sharing this blog with your social media friends using the hashtags #mytop3 #hexagonaltiles for my #singlefamilyhome. We're excited to see what you've got on your list! :)
Go Hexagon this year!
This article was last updated on Dec 6, 2022