Luxury Coastal Home Interiors: Crafting Tampa Bay, Florida's Bespoke Living Spaces
Discover the art of crafting bespoke living spaces in Tampa Bay, Florida, with our Luxury Coastal Home Interiors.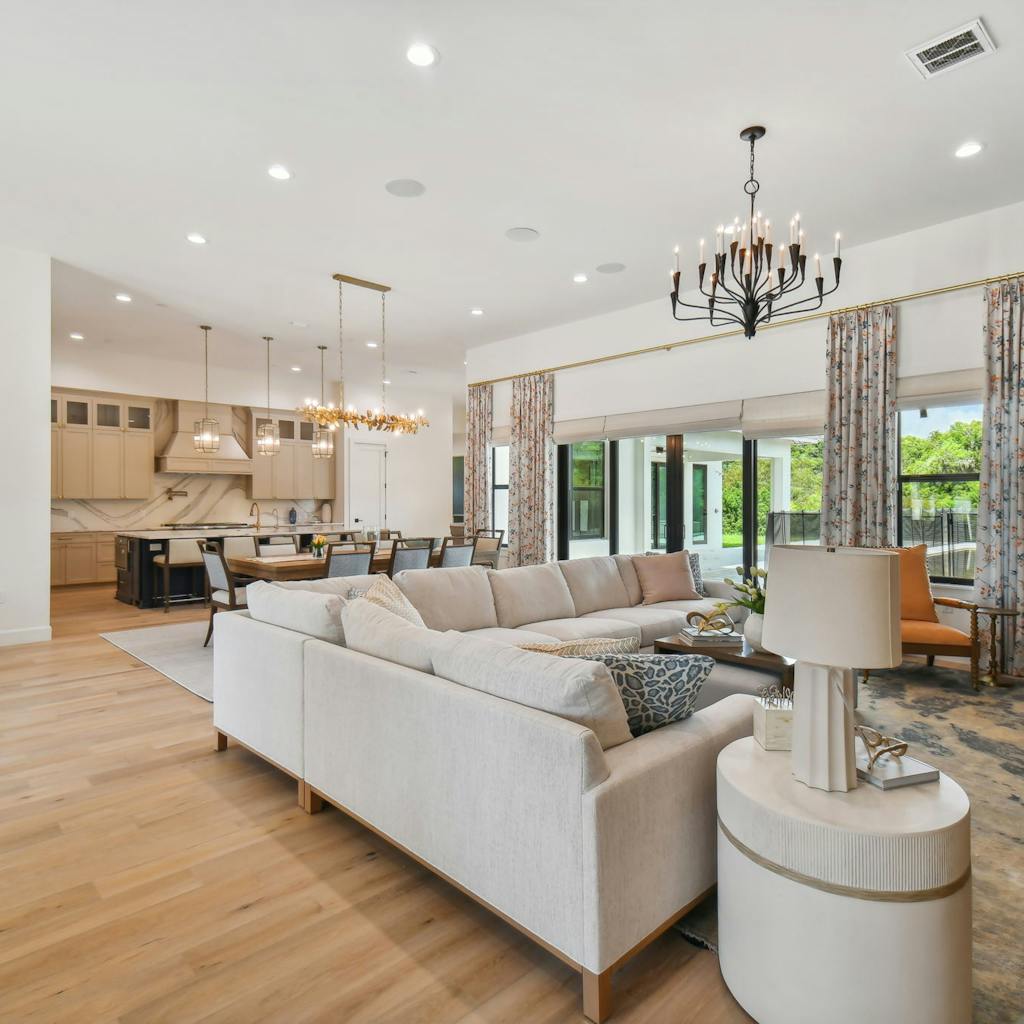 Celine Dion's Florida beach house, a Bahamian-inspired masterpiece, once graced the pristine shores of Jupiter Island. As reported by HouseDigest, with its sprawling 11,000 square feet of sheer opulence, this estate was nothing short of extraordinary. It featured not only a full-blown waterpark but also five distinct pavilions nestled within the lush property. Boasting an impressive 13 bedrooms and 14 full bathrooms, this residence transcended the realm of your typical quaint Florida beach house. Yet, amidst all these lavish amenities, what truly set this estate apart was its 400 feet of Atlantic Ocean frontage, offering Celine Dion the privilege of savoring the beach in utmost privacy and tranquility. The three separate pools, complete with inviting seating areas and cozy fire pits, further enriched this island paradise. It was indeed a tropical oasis, leaving us in awe of the remarkable lifestyle it provided.
Images: The Trillionaire Life™/Instagram
As you ponder the allure of such remarkable coastal living, it's easy to find yourself drawn to the enchantment of luxury coastal homes in Florida. These residences, inspired by the grandeur of their coastal surroundings, offer a unique blend of opulence and tranquility. Whether you're considering an investment in the vibrant Florida real estate market or simply seeking a taste of the coastal charm, you've come to the right place. In the pages that follow, we'll delve into the world of luxury coastal homes, sharing insights, inspiration, and everything you need to embark on your own coastal living journey. So, grab a seat, let your imagination wander, and join us as we explore the magic of crafting bespoke living spaces amidst the breathtaking backdrop of Tampa Bay's coastal splendor.
The Essence of Luxury Coastal Interiors
Luxury Coastal Homes serve as a testament to the seamless fusion of beachfront living and opulent luxury, a unique synergy that encapsulates the very spirit of Tampa's coastal landscape. What sets these homes apart is their ability to transform your custom-built space into a living masterpiece that mirrors the natural beauty of the Tampa coast.
Image: Parasol Properties
At the heart of these Tampa homes lies a commitment to customization. Every corner of these residences is carefully tailored to mirror the unique personality and preferences of the homeowner. This dedication ensures that each space becomes a canvas where individuality and elegance harmonize, making every room a reflection of the homeowner's distinct style. It's this commitment to customization that truly sets apart luxury coastal interiors in Tampa, making them the epitome of opulence and individuality in coastal living.
Image: Parasol Properties
Elements of Luxury Coastal Interior Design
Color Palette: The ideal color palette for luxury coastal interiors in Tampa revolves around soothing oceanic hues, neutral tones, and accents inspired by the beachfront. These colors create a calming and inviting atmosphere.
Image: Parasol Properties
Materials and Textures: Tampa's luxury coastal homes incorporate natural materials like driftwood, rattan, and seagrass, along with plush textiles and soft furnishings for both comfort and elegance.
Image: Parasol Properties
Furniture Selection: Furniture pieces in Tampa's luxury coastal homes are chosen to blend comfort and sophistication, featuring plush sofas, coastal-inspired dining sets, and elegant bedroom suites.
Image: Parasol Properties
Lighting: In Tampa's luxury coastal interiors, lighting plays a pivotal role in creating the desired ambiance. Statement light fixtures and abundant natural light brighten and uplift spaces.
Nautical and Coastal Themes
In the world of luxury coastal design, the alluring features that define these interiors create a captivating backdrop for exploring nautical and coastal themes. These designs draw inspiration from diverse coastlines, spanning rugged New England shores to laid-back Mediterranean villas, reflecting the rich tapestry of global coastal styles. Despite sharing a common seaside allure, nautical and coastal styles have subtle distinctions. Nautical design leans towards classic furniture with lightly distressed white finishes, evoking vintage charm.
Images: Harbour Home Interiors
Coastal design favors furniture with organic, natural lines, prioritizing comfort and relaxation.
Image: Sarah Kuhlman/Instagram
Lighting plays a pivotal role in both aesthetics. Nautical design subtly weaves sailing elements into fixtures, casting a warm glow with maritime undertones. Coastal design embraces natural light, creating a serene atmosphere with airy drapery that invites sunlight indoors.
Decor choices differentiate these styles. Nautical design proudly embraces nautical prints and seashells, evoking the feeling of being aboard a sailing vessel. Coastal design curates decor, featuring coastal art and carefully chosen items that create understated coastal charm.
Tampa's luxury coastal interiors seamlessly weave these elements together. Nautical touches like rope accents and porthole mirrors infuse coastal charm. Beach-inspired decor, including seashell accessories and coastal artwork, evokes a delightful coastal vibe. Both styles draw inspiration from nature, incorporating raw wood, seashells, and coral to infuse warmth. Coastal design introduces woven baskets and driftwood for visual interest, while nautical design integrates sailing-inspired textures. Understanding these distinctions guides the creative vision in the interior design journey, where Tampa's coastal interiors blend nautical and beach-inspired elements.
Image: Parasol Properties
Personalizing Your Luxury Coastal Home
Custom homebuilding in Tampa allows homeowners to incorporate unique features into their interiors, from custom-built shelving to one-of-a-kind artwork installations that reflect their tastes.
The Tampa Bay area's unique culture and surroundings serve as inspiration for interior design choices, with tropical motifs and artwork featuring local landmarks adding a sense of place.
Visual Inspiration
Explore a gallery of high-quality images showcasing luxury coastal interiors from our portfolio. These images capture the essence of Tampa's coastal beauty and the design elements discussed throughout the blog.
Hinshaw
Union
Tindle
Kenia
Conclusion
Elevate your dream of building a house in Tampa, Florida, into a reality with the perfect blend of luxury, coastal charm, and custom home interiors. Our expert design insights and dedication to crafting unique living spaces will ensure your luxury coastal home reflects your vision and the beauty of Tampa's coastline.
Ready to turn your luxury coastal home dreams into a reality? Contact us today to discuss how we can bring your vision to life in your custom-built home in Tampa, Florida.
This article was last updated on Dec 7, 2023