Site Clearing – Union Street, Clearwater, FL
Get an idea of how Parasol Properties perform "Site Clearing" by taking a look at the blog below. Scroll until the end for some short but helpful tips!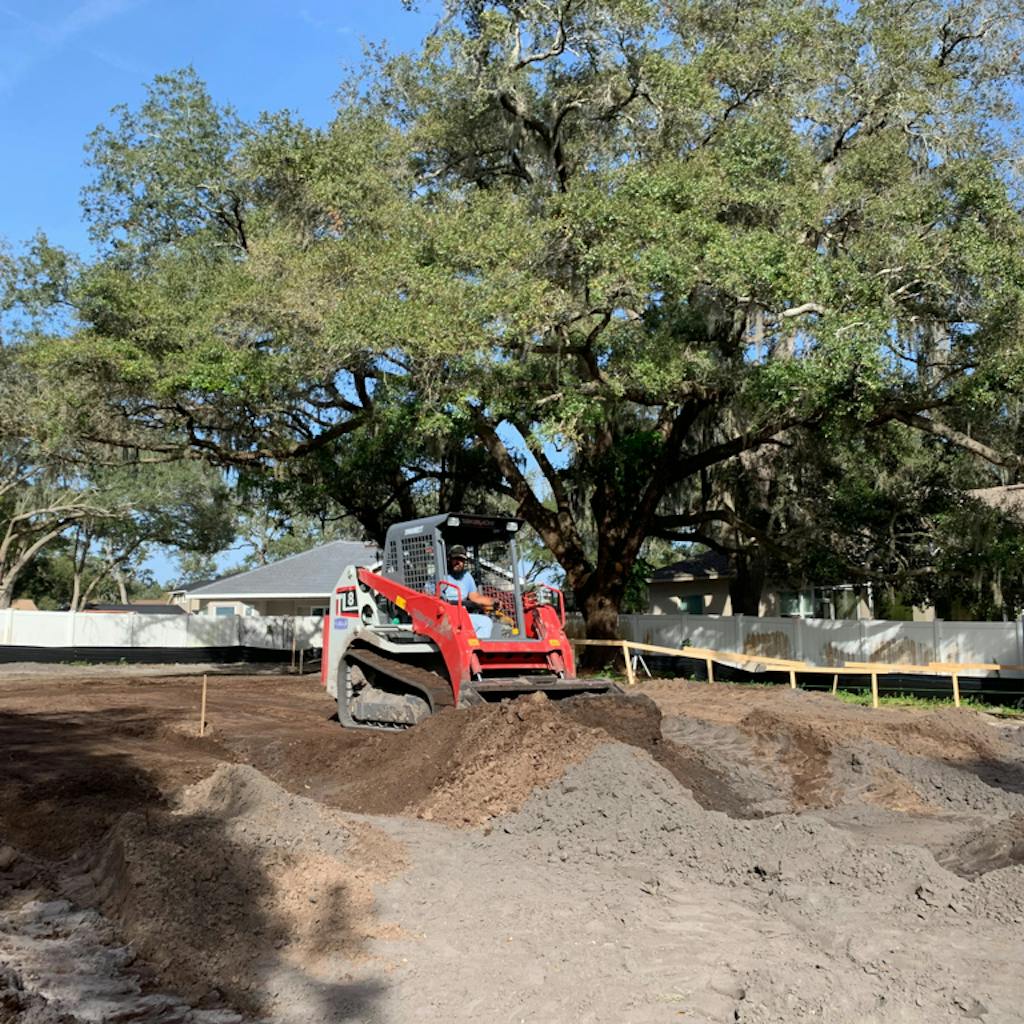 Once the Union project passed permitting stage and is given the all-clear from the City of Clearwater, we perform a flurry of activity which includes marking off the site for where the house will sit, clearing out the organic materials, and adding structural fill.
Site Clearing Gallery
Here we've marked off the area where the house will sit with survey posts and flagging tape.
Existing healthy trees marked with flagging tape and are blocked off with tree protection.
We have to ensure excavation occurs well beyond the tree to prevent the tree roots from being damaged.
A portable generator is brought in with a wheelbarrow to provide power for tools.
You'll notice a difference in the color of the ground. This denotes a difference between the original fill material and the structural fill material that is brought in.
Here you can see the natural sandy soils depress easily, or leave tracts, and why it is important to bring in structural fill material which compacts.
The organic contents of the soil must be removed where the house will sit.
Clearing Out Organic Materials
When preparing any foundation, organic soils must be removed because they are subject to decomposition and volume changes. Excavation is required to reach the specified depth of the foundation surface where
the foundation has sufficient bearing strength to support the structure.
Organic fill materials:
■ Have a low permeability
■ Are an inferior foundation support
■ Not acceptable for pavement subgrade
■ Have some expansiveness
■ And are very difficult to compact

If performed improperly, settlement of the soil could occur and result in unnecessary maintenance costs or structure failure.
Soil Types and Compaction
Sometimes structural fill needs to be brought in to meet the requirements, and this replacement soil should have high compaction levels. In Clearwater, much of the soils are sandy, which is great for drainage but sometimes not strong enough for compaction.
There are five principle reasons to compact soil:
■ Increases load-bearing capacity
■ Prevents soil settlement
■ Provides stability
■ Reduces water seepage, swelling, and contraction
■ Reduces settling of soil
Results of poor compaction:
■ Slab cracks
■ Pool (and in some cases basement) cracks and leaks
■ Pipe leakage and breaks
■ Erosion of the foundation
■ Erosion gullies under abutments
■ Utility trench settling.
Improper compaction can lead to those problems, and proper compaction can ensure a longer structural life, eliminating future problems.
This article was last updated on May 31, 2023